Lafferty Chemical Application Equipment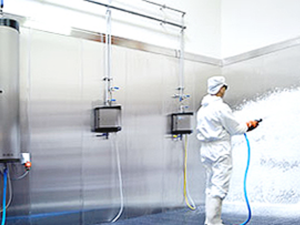 Spray Nozzle Engineering, one of Australia's largest supplier of in place cleaning and water saving equipment, offers Lafferty Foaming and Sanitising Equipment. Lafferty equipment includes: Foamers, sanitisers, sprayers, mixing (proportioning) stations, foggers, asphalt release systems and systems to control cross contamination.
Lafferty products are available in configurations to match your requirements, including a wide range of pressures and volumes. Most products are available in both portable and wall mount models.
Food and Beverage Specialist Stuart Morgan explains: " Lafferty is a specialist manufacturer of cleaning chemical mixing and delivery equipment. They have both fixed and portable systems for not only foaming a workplace, but also sanitising and rinsing" he said. "The beauty of the Lafferty system is both simplicity and rugged build quality, using poly prop mixing bodies means better chemical resistance and less maintenance, and with the added ability to meter chemical use, you can clean with less water and less chemical on  many applications. We have high volume foamers for big areas and entryway sanitisers for high traffic area protection like roller doors".